Thus far summer has been more of a fleeting glimpse than an actual season here in the Pacific Northwest. Just when we think it's here to stay, another round of cold rainy days sweeps in. We're used to so-so summers around here, so our strategy is just making the best of it and enjoying the days we have had -- though I'm getting tired of wearing sweatshirts and jackets at the park, and I'm not entirely sure that Sprout's wading pool is going to make a second appearance.
But if you can't find summer outside your windows, you can always find it between the covers of a book, right? Here's a few of Sprout's current favorite bedtime reads, just right for the season:
Summer Is Summer by Phillis and David Gershator
, published by Henry Holt
There's a lot to like about this one, from its sunny, playful cover art to the cleverl use of shifting, changing perspective throughout. No surprise there, with Sophie Blackall as the illustrator -- I just love the way she draws children, sweet and soulful and mischievous all at once. And the text, a riff on the Gertrude Stein quote "A rose is a rose is a rose" fits well with the illustrations, as we consider giant bumblebees ("a bee is a bee is a bee") and summertime entertainments ("Rain or shine, baseball time -- Summer is summer is summer"). That the boys and girls, all friends and happily enjoying the best of the season, reflect diversity is an added bonus. Sprout likes the beach scene best, with the little brown-skinned boy dumping a pail of water over his head while playing in the ocean. Good times!
Jamberry by Bruce Degan
, published by HarperCollins
It's an oldie but a goodie -- who doesn't love berries, especially this time of year? Since "fruit" (aka strawberries) is one of Sprout's favorite foods, this was a natural choice for us, and he loves it. I had forgotten how much fun the whimsical illustrations are (where else are you going to find "elephants skating on raspberry jam?), and it's especially nice because we pick up little details nearly every time we read it. Plus there's a train in this one, so that makes it an automatic win in Sprout's book. And oh, the berries, such a mouthwatering plentitude of them! Sprout loves the spread at the end, where the boy and his bear friend are "buried in berries". Yum! Colorful, jubilant and a rollicking read-aloud.
Summer Sun Risin' by W. Nikola-Lisa
, published by Lee & Low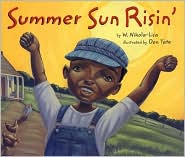 Life on a farm sure is busy! The little boy in this vibrant, cheerful story loves to help out wherever he can on the farm, and there's plenty to do, from feeding the pigs to hoeing the garden and everything in between. The rhythmic rhyme is so fun to read, it'll almost make you want to break out in song. Our favorite verse reads "Pa casts a line, I check the bait. Summer sun's slippin' and the fishin' is great!" Every nuance of Nikola-Lisa's nature-inspired text is mimicked in Don Tate's warm, homey illustrations. The boy and his family are happy at work on their farm, and their love for the land shows through in each welcoming spread. We like to end our night with this one, and kiss the little boy goodnight, all tucked up in bed.
Long summer nights are perfect for "just one more book" at bedtime. And as Sprout already knows, I can't help but give in!