Loads of juicy stuff in the link roundup for this week!
~

On my fall radar already is
Cedella Marley's picture book One Love
, based on her father's song of the same name. The illustrations by Vanessa Brantley-Newton are crazy cute and features a great theme, that we can all do incredible things if we work together.
Check out the trailer
and feel the love.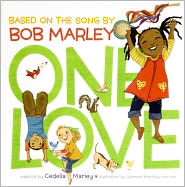 ~

Also due in September is
Maurice Sendak's Bumble-Ardy
, the first book in 30 years that Sendak has both written and illustrated.
Dave Eggers interviewed Sendak for Vanity Fair
, and the author is, as always, nothing if not unpredictable.
~

The
2011 Bulwer-Lytton Awards
were announced this week. Not familiar? The award is named for Edward George Bulwer-Lytton, the playwright who penned what is widely considered
the worst opening sentence in literary history
.

The more florid the sentence, the better in this case. This year's winner, Sue Fondrie, had the shortest sentence yet, but it is wonderfully awful: "

Cheryl's mind turned like the vanes of a wind-powered turbine, chopping her sparrow-like thoughts into bloody pieces that fell onto a growing pile of forgotten memories". Eeeuuuwwww. . .
~

Harry Potter mania is beginning to wane. I haven't seen the new movie yet, but then I haven't seen the last movie yet either – such is life when you have a small child. Maybe on DVD? Anyway, if you are mourning the end of an era like so many Potter devotees, perhaps you can try to recapture the magic as one couple did, with a (pretty amazing)
Potter-themed wedding
. Capes optional.
~

Tintin fans, rejoice! According to The Guardian, the new movie looks to have "the most impressive use of motion capture yet" (and with Steven Spielberg and Peter Jackson involved, are we at all surprised?).
Read the full story here
and
check out the trailer
too.
~

Flavorwire has a new take at
artwork for some classic fairy tales
, that might be more at home in the living room than in the kid's bedrooms. Personal fave? Little Red Riding Hood. Deliciously Grimm!
~

Cover design is a huge part of a book's appeal, whether we want to admit it or not. Don't believe me? Take a peek at the
Book Cover Archive
. Fair warning: it's oddly mesmerizing.
~ And finally, for any who doubt the power of books, and librarians, to influence the course of a child's life,
Stephen King has words for you
.