It's a new year -- let's start it off with some fantasy and ferocity, dragon-style!
What is it about dragons? Cuddly or scaly, friendly or forbidding, they make excellent fodder for some really engaging picture books. In an effort to add some whimsy to our bedtime routine -- and to balance out all those truck/train/car/airplane books we seem to end up checking out -- I recently brought home a couple of dragon-themed titles to share with Sprout.
The first choice,
A Dragon Moves In
by
Lisa Falkenstern
(whom we love from her illustrations for
The Busy Tree
), caught Sprout's attention from the get-go. I'm pretty sure it was the artwork, which is sumptuous and oh-so-inviting. Really, this is the kind of book that defines the phrase "feast for the eyes", as every spread has yet more visual delights. And the story's a winner too: Hedgehog and Rabbit stumble on an egg, which promptly hatches into a baby dragon. The pair are thrilled and decide to bring their new friend home, but they aren't prepared for just how thoroughly Dragon will fill up their house. The solution comes pretty easily, as it often does in picture books, but it's just the thing to bring the friends together. Magical and endearing!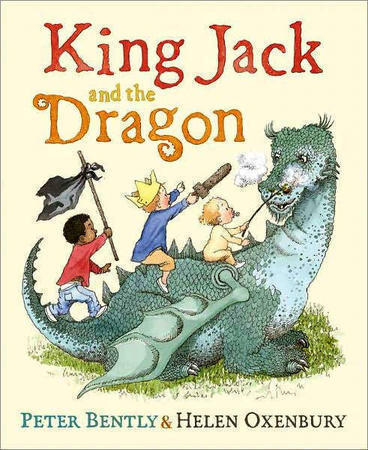 And then there's Jack --
King Jack and the Dragon
, that is. It's easy to fall in love with this title, right from the first moment, just for the sake of
Helen Oxenbury
. But Peter Bently's tongue-in-cheek storytelling kept us turning pages. Jack and his band of intrepid knights must protect their castle at all costs. Monsters and dragons can be easily fought, but it's giants that cause the real trouble, as they pull the knights away one by one. Soon Jack is all alone, but he's not scared, exactly. Still, it's a good thing Jack has his own giants. . . to take him home for bath and bed. The clever, subtle humor here will appeal to older preschoolers, while little ones will thrill at the thought of fighting dragons and beasts themselves. And Oxenbury's artwork is of course beyond charming (naturally I find the chubby-cheeked Zack the most appealing, but Jack and Caspar are pretty cute too).
He's a little young for it yet, but one dragon title I can't wait to introduce Sprout to is Ruth Stiles Gannett's
My Father's Dragon
. I still remember hearing this one read aloud when I was in elementary school, falling under the spell of this inviting tale and its quirky, old-fashioned artwork (that cover - what is it about that cover?? Retro fabulousness!). Though there are other books in the series, this is the one that grabbed and held my attention from the first lines. I'm thrilled that there are new editions of this one still around, that I can share with my own kiddo in the not-too-distant future.
What's your favorite dragon title? Add it together with one of these newer choices for a fun (and fierce) storytime experience!