May's a festive month around our household: two birthdays, Mother's Day, and the anniversary of the day we became a family. This year we're throwing a big shindig for Sprout's third birthday, and the excitement is really starting to build, with lots of talk about cake, presents, cake, decorations, cake and friends who are coming. Oh, and cake - did I say cake?
Sprout's kind of obsessed with the birthday cake this time around. I blame Betty Bunny. Just about every night the book of choice is
Betty Bunny Loves Chocolate Cake
by Michael Kaplan. I can completely understand why: it's funny and clever, populated by some fantastic characters (our favorites: wiseacre brother Bill and Betty Bunny herself, a real "handful") and full of the kind of real dilemmas kids face. Like, for instance, how you handle it when you want to eat chocolate cake for dinner and Mommy insists on healthy dinner first. (I'm pretty sure Betty Bunny's solution, throwing veggies at her siblings, is probably not the best.) Preschoolers will gobble this one up as surely as Betty Bunny makes short work of her chocolate cake, and the ending is guaranteed to get a laugh every time. Luscious!
If Betty Bunny can't get enough cake, Sugar's on the other end of the spectrum. In
Emily Jenkins
'
Sugar Would Not Eat It
, Leo's newly adopted cat Sugar gets hungry, so Leo offers her a piece of his leftover birthday cake. But Sugar refuses, and the more Leo cajoles, the less interested Sugar becomes. In desperation, Leo solicits advice from everyone in his neighborhood. But nothing he tries seems to work: not getting mad, not punishment, not limiting her to only four bites. At last the hungry kitty makes her own preferences clear, and Leo finally realizes that for cats, maybe birthday cake isn't the meal of choice. The illustrations by
Giselle Potter
add just the right amount of whimsy - we especially love Sugar's vibrant blue fur. A great message here for picky eaters and their parents!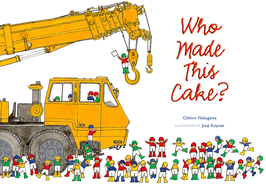 Who Made This Cake?
by Chihiro Nakagawa was a hit for Sprout right from the cover - a huge crane and loads of little workmen getting ready for a big project. Turns out the tiny workmen are taking on a massive project: making a birthday cake for a full-size human boy. Think Gulliver and the Lilliputians. This is a resourceful bunch, and they've got plenty of heavy equipment to help with the job: diggers and backhoes, tractors and dump trucks, and an enormouse flatbed to transport the cake pan to the oven. Pumper trucks spread the icing, and a helicopter loads in the final touch, a giant sign reading "Happy Birthday". For little ones obsessed with trucks, trains and all things construction, here's an ingenious twist on the birthday theme. We love it!
Cake-themed reads are fun no matter what time of year your birthday falls. But be forewarned: these delicious titles might just drive you to crack out the baking pans!