A while ago a reader contacted me asking about series featuring children of color. Ever since then I've been on high alert for series that fit the bill - those that have a recurring character or characters but for which diversity isn't the driving force of the story. Rather, I'm looking for books where diversity is a side element, less the focus of the narrative than a characteristic. I've already
written about a few
, and
featured a couple on a Pinterest board
, and I've got several others in the wings (one of these days I'll have time to write all those blog posts I want to, right?).
One series that cropped up early on in my research was the Messy Bessey series by Patricia and Fredrick McKissack. Patricia McKissack is a familiar name in kidlit circles, and for good reason - she's written some outstanding picture books and novels, both with her husband and on her own, and has received both a Newbery Honor and two Coretta Scott King Awards. But her Messy Bessey series is a bit of a departure from her historicals and nonfiction titles, and it is for beginners so it may have flown under the radar of most of her readers.
And that's a shame, really, because this is a terrific series to share with kids just learning to read. Don't look for complex plots or intense character development; like most early readers, these titles drop readers right into the action and feature swift, satisfying resolutions. The series is filled with colorful and lively illustrations by Dana Regan, a point that's sure to draw kids in from the covers alone. Add to that the trope of a recurring character who finds herself always on the clean-up end of a big mess (usually her doing) and you have the makings for a charming little series for beginners.
I brought home three of the Messy Bessey titles to share with Sprout and he's insisted every time that we read all three together. Quite frankly I think he identifies most with the first title,
Messy Bessey.
In that outing, our heroine must clean up her room, which is a frightful disaster -- gum on the ceiling, for goodness sakes! (Sprout thinks that's hilarious). And being a typical kid, Bessey does just what she needs to do - clean up the surface and shove most of the debris into her closet. I love that - no goodie two-shoes ending here, which would be a total drag for kids anyway, as who loves a book where the main character does just what they are told?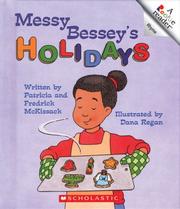 The other two titles we read are
Messy Bessey's Family Reunion
, in which Bessey's extended family gets together for some fun at the park and then must clean up afterwards, and
Messy Bessey's Holidays
, which sees our girl baking cookies for three winter holidays. I especially love the last one, because it shows a rare nod to Kwanzaa, Hanukkah and Christmas all together. In that outing, we learn that different people celebrate differently, but everyone enjoys a colorful sugar cookie!
We've had great fun reading these three books together, and I know that we'll revisit the series when Sprout's ready for some easy readers of his own. Simple and readable, with relatable characters and situations, the Messy Bessey books fit the bill for parents and teachers looking to move beyond licensed characters and familiar faces for the beginner reader set. Though these are older titles, it's still worth checking out your library or used bookstore to find them - you never know what Bessey's up to, but you can be sure a mess isn't far behind!
Titles in the Messy Bessey Series (note: I couldn't find a complete series listing):
Messy Bessey
Messy Bessey's Holidays
Messy Bessey's Family Reunion
Messy Bessey's Closet
Messy Bessey's Garden
Messy Bessey and the Birthday Overnight
Messy Bessey's School Desk
Bonus:
an interview with Patricia and Fredrick McKissack from Reading Rockets