There's a scene in the Pixar movie
The Incredibles
where Mrs. Incredible tells her son Dash, "Everyone is special." Dash's response is "If everyone is special, then no one is." I think Dash's point is a good one, and it certainly addresses a particular school of thought that discourages singling kids out of the crowd for specific talents, with the idea that doing so will increase competitiveness and jealousy. For the record, I don't subscribe to that notion -- we want Sprout to grow up to learn that everyone is good at some things and not so great at others, and that there's nothing wrong with that.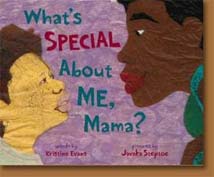 However, I do think that each child has special qualities and that everybody's uniqueness should be celebrated. That's the message behind
What's Special About Me, Mama?,
a picture book written by Kristina Evans and illustrated by
Javaka Steptoe
. In it a little boy asks his mama the title question, and she replies, "So many things, Love", then begins to articulate each one. But the boy persists in his question -- yes, his freckles are special, but Auntie Jade has those too. Yes, his kindness is special, but sometimes he doesn't feel like sharing. So what about him, just
him
, is truly unique?
Kristina Evans' text is warm and comforting, as the mama continues to affirm her son with loving observations of his individuality. No matter how many objections her son brings up, this mama has an answer for all of them that underscores the point she's making. This is perfect for the stage that all kiddos seem to hit, where they need continual reassurance of parental love and of their own place in mama or daddy's heart. (We're not there with Sprout yet, but I know it's coming!)
And if that's not enough of a reason to pick this up, then how about Javaka Steptoe's illustrations? I have to say, the illustrations were what initially sparked our interest -- not only because the mama and son have skin of different shades, but also because Steptoe's style is truly delightful to look at. Mingling torn paper with materials of varying textures, Steptoe creates collage spreads that you can return to again and again. The expressiveness of the characters is something that drew Sprout's eye right away, and the emotion that Evans creates in the text is mirrored in the faces of each person we meet through the book.The layering of shades adds depth to the backgrounds and draws the story and its message together nicely. We love it!
Bottom line: African American and transracial families will enjoy this one, but there's a lot here for all families -- a message of constant love and affirmation that will resonate with toddlers and preschoolers, and moms and dads too.
What's Special About Me, Mama
? by Kristina Evans, published by Disney/Jump at the Sun
Ages 2-6
Source: Library
Sample quote: "Please, Mama, tell me what's special about me! / Your laugh, Love, and the way your laughter fills the house with joy. It's just like when sun fills the sky on a cloudy day."
Recommended