The concept behind Crockett Johnson's iconic picture book
Harold and the Purple Crayon
is simple and yet amazingly original at the same time. Take a little boy, in the wind-down of the day into evening and bedtime, give him a very special crayon, and see what ensues. Oh, and make that aforementioned crayon purple, in a world that must undoubtedly be pretty monochromatic. Truthfully, it's not far from other classic titles that are based on flights of the character's imagination -
Where the Wild Things Are
, for example - but yet Johnson's book is wholly unique and his Harold not one bit derivative.
Crockett Johnson (his real name was David Johnson Leisk) was a cartoonist prior to lending his hand to children's books, first through illustrating and then through writing his own titles. You have to imagine that
Purple Crayon
was a bit of a breakthrough for an artist who was used to working in such closely circumscribed a format as the comic strip. Though his character "Barnaby" was much beloved and had a huge circulation, it is
Harold
who took flight and spawned a number of sequels. These include
Harold's Fairy Tale
,
Harold at the North Pole
, and
A Picture for Harold's Room
. Johnson also collaborated with his wife Ruth Krauss to produce a number of popular titles - their book
The Carrot Seed
is, like
Purple Crayon
, completely genius in its very simplicity.
Sprout went through a phase about a year ago when
The Carrot Seed
and
Harold and the Purple Crayon
were on near-constant rotation in the bedtime routine. At two years old, I think
Carrot Seed
was more within his realm of understanding, but he was clearly as drawn to
Purple Crayon
as I remember being as a kiddo. Then we kind of put them aside for a while, but lately he's taken much more interest in Harold's exploits. I think he's finally starting to get the basic premise, the magic inherent in Harold's crayon. "He made this, Mama!" he tells me, pointing at Harold's fine boat with its swelling purple sails.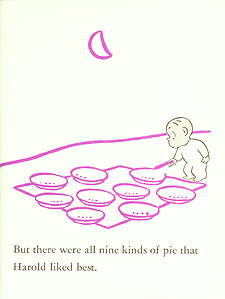 Or maybe he's just interested in those nine kinds of pie.
At any rate, it makes my heart swell to see Sprout so taken with a book that was a childhood favorite of mine. I don't remember reading any of the Harold sequels, though they were undoubtedly still in print when I was a kid. Mostly I remember Harold's moon - that not-quite crescent that guides his night-time journeys - and his apple tree. (I had quite forgotten that he draws a "terribly frightening dragon" to guard the apples on the tree. The sight of that dragon makes Sprout shiver deliciously and say, "Oooh, he scary!").
What's the lesson behind
Purple Crayon
? Well, it's obviously a lot about imagination, and making your own special world, but let's not forget that Harold has a good deal of unflappability about him for a somewhat chubby youngster in a sleeper suit. Hungry? Make yourself something delicious to eat. Falling off a mountain? Just draw yourself a balloon and you'll be fine. Can't find your bedroom window? Keep drawing windows until you remember just about where yours ought to be. That's self-reliance, folks - Harold's taking charge and showing kids that there's a certain brilliance to working through your own problems if you can.
And when you're home at last, don't forget to make your own bed and draw up the covers.
Wayback Wednesday verdict? Nearly as perfect as kidlit can get.
Harold and the Purple Crayon
by Crockett Johnson, published by HarperCollins
All ages
Source: personal collection
Sample: "The sandy beach reminded Harold of picnics. And the thought of picnics made him hungry. / So he laid out a nice simple picnic lunch. / There was nothing but pie. / But there were all nine kinds of pie that Harold liked best."
Highly recommended
Bonus - read more about Crockett Johnson and Ruth Krauss at
The Crockett Johnson Homepage
. And check out
Philip Nel's biography of the duo
, due out later this year!